Archive for June, 2014
Monday, June 9th, 2014
Cycling for Thursday, 11/20 has been CANCELLED at the WTF.
Thursday, June 5th, 2014
Name: Lynn Douglas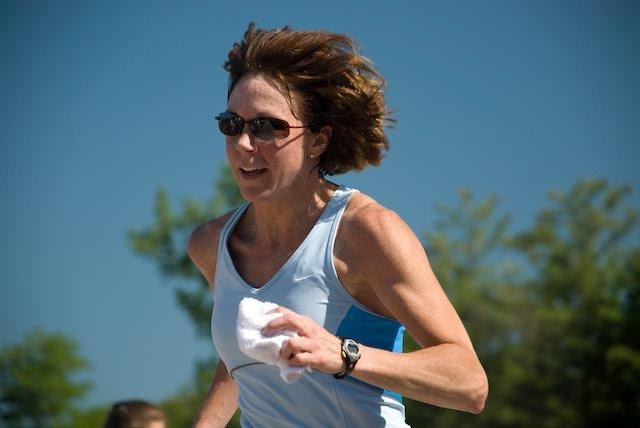 Tell us about yourself.
I'm 51 and reside in Camillus. I am a Vermont native and moved to the Syracuse area in late 1995, from Connecticut. With 28 years of tenure, I work for Verizon as a Service Manager. My team provides contract governance and technical support for 17 worldwide healthcare clients. Locally, I'm proud to be on the Mountain Goat committee and board. I was probably one of the first 30 members of the CNY Tri Club and a club officer for a few years. I'm a dog lover and I'm destined to get another dog in my life, perhaps in 2014……
How long have you been involved in triathlon and what made you take it up?
I've been involved with triathlons since 2002. Close friends of mine had just started doing triathlons and they were having a ball and feeling the benefits of cross-training. With my running background, I decided to join in the fun, and added swimming and cycling to my training. I was confident I could swim, with work, having grown up on Lake Champlain and having ridden the hills of Burlington, Vermont, on a 10 speed bike when I was a student at the University of Vermont.
Who is your hero?
My local hero is Samuel Clemence, age 75. Sam is a soulmate Lake Placid Ironman training partner. Ironman pal Rich O'Neil and I went to Sam's retirement party recently as he retired as a Syracuse University Meredith Professor within the Department of Civil and Environmental Engineering. I was deeply touched to hear firsthand about his enthusiastic transfer of knowledge, inspiration, passion, critical thinking and integrity to his student base over the years. He has shared this same positive spirit and tenacity through his accomplishments with his triathlon "students" and family.
What is your athletic background?
I was the captain of my small high school cross country and track teams. I've thoroughly enjoyed many sports including skiing (my passion), cross-county skiing, snowshoeing, hiking, kayaking, waterskiing and scuba diving in addition to swimming, biking and running. I would love to try winter hiking in the future. I've enjoyed building on distance over the years. You all know that once you do your first 5K run, your interest and crazy aspirations turn to the next goal and others often inspire you or talk you into more. I've run 11 marathons (excluding Ironman), including a couple of Boston marathons, and have completed numerous triathlons, including Lake Placid Ironman twice. Some of my PRs are: 10K, 45:37, Auburn Great Race; half marathon, 1:40, Tucson; marathon, 3:43, Mohawk Hudson; half Ironman, 5:27 Tupper Lake; Ironman, 12:35, Lake Placid.
What are your triathlon strengths and weaknesses?
I'd have to say running is my strongest sport, not because I am fast but because I've been through so many miles that I've learned what my body can and can't do. Furthermore, I have thoroughly enjoyed the mental outlet, cardio value and social benefit of the sport. I'm excited that I still have plenty to learn and to improve with my cycling and swimming.
What was your first triathlon and what do you remember most?
My first triathlon in 2002 was the St. Croix VI sprint triathlon on a rented mountain bike. I remember the island-start swim and large waves with tropical rain pummeling my back. I was thrilled that I wasn't doing the slick-road half Ironman course, including the "Beast." I also had a ball when I met and chatted with pro Joanna Zeiger's husband out on the bike. He was doing his first tri too.
What is your favorite race and why?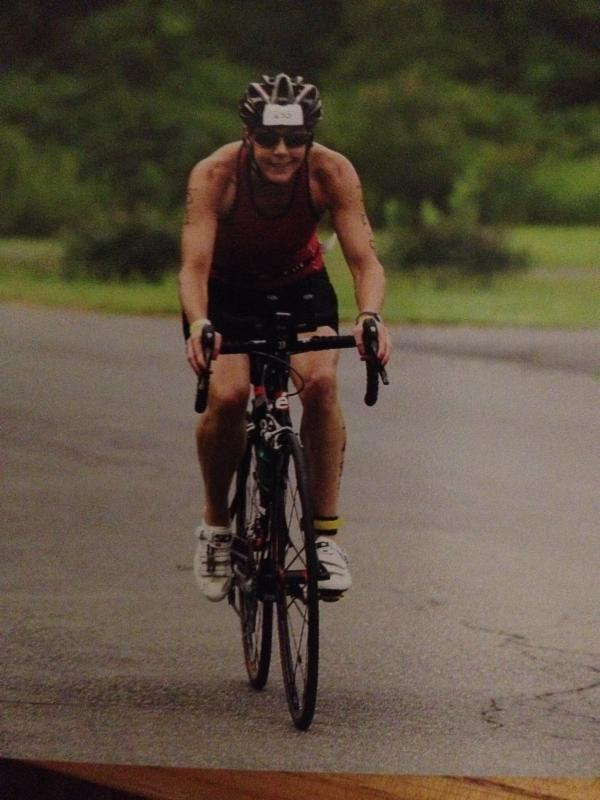 Ironman Lake Placid 2005. I had massive butterflies in my stomach as I arrived in Lake Placid. I vividly remember hitting the point that I knew I was ready for the race–I had gone to Placid Planet around 5 a.m. the day prior to the race to get my derailleur tweaked and I cycled out onto Mirror Lake Drive alone to work through my gears when I saw the fog lift on Mirror Lake to reveal the red tetrahedral buoys at the swim turn. What a pure, unexpected and glorious fog-lift "sign" to know I was ready! Also, I burst out laughing on race day when I was in the water with the helicopter overhead and the swim was so tight my first strokes were the dog paddle. I knew my family would laugh at me if they saw me on TV. Lastly, after the race I was so amazed and fulfilled by the athletic goals set and results accomplished by other people after I shared my Ironman journey story with them.
What was your worst race and why?
Thankfully, I haven't had many bad race experiences. For my first marathon, the Vermont City Marathon, after having been encouraged by Lindsey Reider and Eric Prager to run the event, I gratefully ran 22 miles with Bobby Angotti. I crossed the finish line happily only to have my entire thighs and calves seize up with cramping. I had to be carried away; I quickly learned about electrolyte replacement.
What races are on your race calendar for 2014?
Nationals, Olympic distance in Wisconsin; Henderson Harbor tri (love this one); Skinnyman and others.
What are this year's goals?
I am focusing on Olympic distances, speed work and perhaps a half Ironman, which is in tune with my training buddy Monique Cuyler. Professionally, I am working on my PMP (Project Management Professional) certification by year's end, which is a large commitment.
In five years you hope to… :
I hope to enjoy great health and new athletic accomplishments with varying locations and venues, as part of a balanced life. Another Ironman may be in the future…2015? I'd like to continue to inspire and assist others to achieve memorable athletic accomplishments, at any level.
Something most people don't know about you:
I once roller skated for 24 hours for a charitable cause when I was a teenager. That might have been my first endurance experience.
What triathlon has taught you:
Triathlon has brought thorough enjoyment to me alongside great friends! The triathlon journeys have been such an important part of my life and balance. The hard work, laughter and memories have been amazing. Triathlon buddies over the years include Sam Clemence, Rich O'Neil, MJ Reinhart, Karen Allen-Turner, Lynn Festa, Monique Cuyler, Robin Cottrell, Ann Haley, Marlene Cleary, Sue Shopiro, the Ginny and Bob Burton cellar cycling crew and my Camillus neighborhood running ladies.
Tuesday, June 3rd, 2014
Jennifer Abulencia
Jeffrey Abulencia
Zachary Abulencia
Jordyn Abulencia
Jade Abulencia
Patrick Acee
Laura Ackerman
Michelle Ackerman
Mike Addario
Kerri Aitken
David Aitken
Samantha Aitken
Tyler Aitken
Joshua Aitken
Amanda Aitken
Kevin Alder
Rebecca Alder
David Allen
Kris Allen
Kurt Allen
Karen Allen-Turner
Ellen Anagnostopoulos
Brandon Anderson
Meredith Andrews
Nathan Andrews
Gabriele Ariola
Monica Ariola
Deborah Armstrong
Joan Arno
Deborah Audley
Deborah Austerman
Anne Austin
Ted Ayoub
Judy Bablok
Steve Bailey
Elizabeth Baker
Lisa Baker
Megan Baker
Alex Baker
Linda Baker
Darin Baker
Jennifer Baldwin
Kristen Baleno
Eric Bansbach
Nancy Bansbach
Susan Bansbach
Elizabeth Bansbach
Kelly Bargabos
Christina Barker
Leslie Barrows
Len Barry
Joe Bartlett
Carol Basile
Valerie Battelle
Heidi Baumbach
Danielle Baye
Hope Bednarski
Kimberly Bement
Amy Benedict
Patti Bennett
Caitlin Bennett
Leo Berman
Sally Berry
Jennifer Berthoff
Elizabeth Besio
Doris Bessasparis
Sylvia Betcher
Kim Bish-Williams
Sterling Boin
Donna Boots
Rebecca Bostwick
Colleen Bourdage
Andrea Bradley
Kate Branagan
Danielle Brewer
James Bright
Michael Brookins
Claire Brookins
Lori Brosh
Christine Brown
Kimberly Buck
Jude Burke
Karen Burke
Casey Burke
Sierra Burke
Mandy Burkett
Ericka Burns
Gna Burrows
Bob Burton
Ginny Burton
Lauren Burton
Kim Bushnell
David Butera
Jennifer Butera
Cindi Byrne
James Cable
Patricia Cahalan
Shannon Cahalan
Lauren Cahalan
Robert Calnon
Steve Capella
Amy Caputo
Pamela Caraccioli
Douglas Carbino
Kathy Carbino
Andrea Cardinale
Kelly Carey-Raymond
Denise Carlson
Joseph Carnese
Jean Carnese
Jennifer Carney
Aaron Case
Clarice Chastang
John Cico
Kenneth Cigler
Mary Ciotti
Caryn Ciotti
Lois Clark
Samuel Clemence
Mary Clements
Eileen Clinton
Lauren Clonan
Jessica Collins
Michael Collins
Theresa Collins
Joseph Collins
Clare Collins
Anya Collins
Briana Conley
Brian Connelly
Dana Cooreman
Kathy Corbett
Carrie Corcoran
Carrie Corcoran
Sherry Correll
Kevin Costello
Robin Cottrell
Amber Craigmile
Shawna Craigmile-Sciacca
Jen Crawford-Doody
Jennifer Crisp
Tracy Cromp
Danielle Cross
Andrew Cunningham
Lynn Cunningham
Tina Cupoli-Stewart
Sally Curran
David Curtin
Monique Cuyler
Evelyn Czyz
Rebecca Dadey
Matt Dadey
Bryce Dadey
Tamara D'Agata Malecki
Mike Daly
Colleen Damato
Cono Damato
Tina D'Amico
Tamara Danner
Roxanne Davis
Renee Deangelis
Brantley Deaton
Karen Deaton
Karen DeBlois
Chris DeBottis
Julie DeKing
Cheri D'Elia
Jacqueline Delia-Figueiredo
Jason Dellilo
Holly DeMar
Tasha Demlein
Melanie Dennison
Patti Depaulis
Mark Depaulis
Michael DePhillips
John Ders
Nicole DeRue
Joanna DeSantis
Dylan Desimone
Stacy Devendorf
Joan Deyle
Lynne DiGennaro
Tim DiGiulio
Michele Dobson
Mary Beth Domachowske
Pat Doner
Craig Donnelly
Maura Donovan
Johanna Dorrance
Katie Doucette
Mary Dougherty
Kelly Dougherty
Lynn Douglas
Melissa Downs
Lindy Drapikowski
Elizabeth Ducett
Jeff Dugan
Chelsea Dunay
Mark Dwyer
Karen Dygert
Kathleen Effler
Jackie Egle Capella
Carrie Eldridge
Molly English-Bowers
Lonny Erb
Karen Esposito
Beth Etuale
John Evans
Coraline Falco
Lisa Farewell
Marie Farone
Colleen Farrell
Maureen Fauler
Helen Feldman
Annette Fentress
Paul Fenwick
Emma Fenwick
Laurie Ferger
Heidi Ferguson
Tish Ferri
Gordon Fesenger
Steven Festenstein
Mary Beth Fiorentino
Cathy Fischer
Brian Fite
Candi Fite
Kelly Flaherty
Maureen Fleming
Ruth Florey
Kristen Foland
Jayson Foland
Doreen Forbes
Mark Ford
Shawna Fox
Lauri Francis
Lynelle Francis
Betty Franklin
Tammy Fuller
Mindy Lu Gaffney
Mary Gajewski
Jim Galloway
Daniel Ganley
Ericka Garcia
Richard Gardner
Dominic Garofalo
Nicole Garofalo
Michael Gasparek
Michael Gaulin
Tina Gauthier
David Gauthier
Joshua Gauthier
Taylor Gauthier
Sierra Gauthier
Sean Gavigan
Kenneth Geary
Amanda Geary
Jessica Geary
Tanya Gesek
Katherine Gibas Gibbons
Candy Gibb
Eileen Gleason
Kimberly Glidden
Matthew Glidden
Monica Gnyp
Cara Goldberg
Michelle Goldych
Diane Goode
Stephanie Goodell
Amy Gorzka
Janice Gray
Rachel Gregg
Kelly Gressel
Chary Griffin
Robert Griffiths
Coby Grunder
Tammy Guarno
Ryan Guerdon
Liz Gunnip
Randy Hadzor
Stacey Hagadorn
Hilaireen Hall
Karlie Hall
Bill Halsey
Jacqlynn Halstead
Lynn Hamilton
Lindsay Hanas
Charlene Hannagan
Drew Harig
Brooke Harig
Leigh Harris
Katie Hart
Shirley Hartnett
Paula Haynes
Toby Heath
Isabella Heath
Jeffrey Heim
Maya Heimes
Kevin Helinger
Megan Henderson
Elaine Henning
John Higgins II
Mary Hoag
Kevin Hoag
Lindsay Hoage
Christine Hodkinson
Maureen Hohl
Meghan Holden
Sharon Holliday
Maribeth Homa
Lisa Hoover
Michele Horton
Kara Hoselton
Mary Houck
Kate Houck
Danielle House
Beth Hughes
Dean Humphreys
Joanna Irvine
Patty Jacobs
Ralph Janicki
Chelsea Jay
Brenda Jaynes
Randy Jaynes
Lari Jimerson
Laurene Johnson
Dennis Johnson
Kim Johnson
Mike Joyner
Elizabeth Jurkiewicz
Jeffrey Justice
Kimberly Kedenburg
Stacey Keefe
Karen Kelly
Maureen Kenyon
Ellen Kerwick
Kelly Kiggins
Elaine Kimpel
Laura King
Caryl Kinney
Ika Klapan
Barbara Klim
Jennie Kliment
Daniel Kliment
Audie Klotz
Dave Knaebel
Cristina Knapp
Eric Knapp
Lauren Knight
Brenda Ko
Jo Koerner
Greg Koop
Andrea Kooritzky
Matt Kosinski
Robert Kosinski
Michele Kosinski
Michael Kostakis
Benjamin Kovach
Susan Kreplin-Michaels
Lynne Krohl
Colleen Krug
Nancy Krupka
Suzanne Kuepper
Ryan Kuepper
Christine Kukenberger
Keith Kutil
Jennifer LaGrange
Cynthia Lamkay
Julie Landcastle
Bob Langkam
Bob Langkammerer
Edward Lapa
Ron LaPrate
Ben Larsen
William Latta
Dorin Laufer
Mike Lavelle
Laura Lawson
Katie Lawson
Jodi Lembo
Timothy Leonard
Patricia Levine
Bridget Lichtinger
Kayle Light
Thomas Lingel
Sandra Lizlovs
Kelly Loch
Janet Loch
Elinore Loch
Jessica Loch
Adam Loch
Katie Loch
Susan Lockyer
Laurie Loiacono
Luke Lonergan
Tom Long
Tracie Long
Dannielle Loranger
Austin Loranger
Bradley Loranger
Kimberly Loughlin
Christopher Loughlin
Ann Marie Lozito
Anthony Lubrino
Steve Ludwig
Myron Luthringer
Matt Lyaski
Mary MacBlane
Meghan MacBlane
Joslyn MacDougal
Lila MacDowell
Mark Machell
M.J. MacKenzie
Maeve MacKenzie
Will MacKenzie
Ryan Mackenzie
Scott Mackenzie
Virginia Madden
Mary Beth Madlin
Kimberly Maguire
Jeffery Maher
Tara Mahoney
Sue Mangicaro
Laura Manley
Erin Mansir
David Markham
Jeanna Marraffa
Melissa Maser
Colin Massulik
Kimberly Mathieson
Becky Maxwell
Patrick May
Jeff McAfee
Mary Kay McAndrew
Eileen McAndrew
Kathleen McCadden
Christine McCartan
Kevin McCartan
Marcia McCarthy
Sean McCauley
Steve McCormick
Stephen McCoy
Matthew McCoy
Carolyn McDonald
Nancy McGovern
Ryan McGovern
Kathleen McGrath
George McGuire
Tanya McGuire
Grace McGuire
Abby McGuire
Aidan McGuire
Kira McKinney
James McLean
Cynthia Mead
Ryan Meek
Sara Mele
Todd Metcalfe
Lee Michaels
Michelle Michlovitch
Stephanie Michlovitch
Marlesha Minet
James Mirra
Joan A Mirra
James Mirra II
Katie Mitchell
Chantel Moran
Gwendolyn Morgan
Mary Morgan
Colleen Morgan
Erin Morgan
Bradford Morse
Heather Moses
Ann Moskalyk
April Mowers
Kristen Mucitelli
Cindy Mueller
Meghan Murman
Lorraine Murray
Sarah Myers
Denise Napoli
Andy Napoli
Kellie Nasiff
Ron Nelson
Ronald Nelson
Betsy Nicol
Len Nitzberg
Mary Nitzberg
Randy Noble
Aaron Nolan
Peg Northrup
Elizabeth Novakowski
Elise Novakowski
Ginny O'Connor
Rick Ogden
Karen Ogden
Quincey Oliver
Laurie Oliver
Richard O'Neil
Cindy Ostuni
Jennifer Ours
Wanda Padula
Ann Page
Maureen Page
Tom Palmer
Sarah Panzarella
Judith Parish
Lawson Parker
Victoria Pedersen
Kimberly Pedrotti
Margaret Perkins
Jeff Perkins
Patty Perless
Adam Peruta
Erika Peryea-Hewitt
Mike Petercsak
Kathryn Phelan
Carrie Piquet
Diane Pisano
Mickey Piscitelli
Steven Plante
Mary Lou Plante
Jill Poniros
Michael Pope
Alescia Porceng
Annaleigh Porter
Detta Poster
Caroline Potter
Eric Prager
Marcia Prignon
Anne Proppe
Lauren Putnam
Kim Quartier
Kristy Quattrocci
Ben Rabin
Jason Raposo
Joan Rappaport
Heidi Ratliff
Joe Raulli
Philippa Read
Chris Read
Susan Read
Tim Reed
Lisa Reedy
Shannon Reeves
Nicholas Reeves
Enid Reiley
Maryjo Reinhart
Scott Reinhart
Brett Rewakowski
James Reynolds
Kirsten Rhoades
Joy Rinaldi
Holly Rine
Ruth Ripley
Barb Roach
Virginia Robbins
Scott Rogers
Melissa Romano
Ellen Rosa
Elyssa Rosenbaum
Jason Rupert
Adam Ruszkowski
Adrienne Rutkowski
Mary Ryan
Shawn Ryan
Lindsay Ryan Anthony
Kim Ryder
Deborah Sabella
Steve Sabella
Patrick Salisbury
Sam Sampere
Lindsay Sandy
Deborah Sandy
Karyl Sargent
Christy Sargent
Mimi Satter
Deborah Saucier
Daniel Savage
Kelly Scalzo
Lynda Scannell
Kelly Schad
Christopher Schad
Cale Schad
Logan Schad
Scott Schaffer
Jenny Schaffer
Susan Schmelling
Helene Schmid
Andy Schmid
Amy Schmitz
Stacey Schneble
Ivy Schoff
Sara Schultz
Michael Schultz
Kimberly Schulz
Cheyenne Scott
Jennifer Scott
Candace Searing
Richard Searing
Rachel Segrue
Sean Severance
Melissa Severance
Kiana Severance
Cole Severance
Carrie Shaffer
Allyson Shaw
Meghan Shea
Janice Shea
Tom Shea
Christine Shea
Aidan Shea
Kevin Shea
Rebecca Shearer
Margaret Sheen
Claire Sheen
Colden Sheen
Blake Sheen
Alexi Sheen
Porter Sheen
Mary Ellen Shelton
Michael Sherman
Amy Shore
Pauline Shostack
Adrienne Shuron
James Simko
Devon Simmons
Deborah Sindone
Perry Singleton
Jason Sipley
Holly Skiff
Nancy Skye
David Smith
Sean Smith
Dylan Smith
Greg Smith
Nancy Smith
Ann Smith
Dawn Snow
Kathy Solan
Linda Sollars
Jenny Sommers
Karen Sorensen
Ellen Sorensen
Terri Spinella
Rebekah Spink
Katherine St.Denis
Wendy Stark
James Sterio
Thomas Stern
Gary Stevens
Savannah Stevens
Lisa Stewart
Deborah Storrings
Christina Stottlar
Danielle Strassle
Catherine Sullivan-White
Robert Svenson
Jessica Sweeney
Kerri Sweredoski
Gail Swinburne
Robyn Sylvester
Tim Taber
Lisa Tamiso
Christina Tarnacki
Sarah Tate
Nancy Taylor
Joe Thiel
Lindsey Thiel
Amie Thomas
Dawn Tice
Seth Torrice
Anne Trachtenberg
Eric Trachtenberg
Elizabeth Tracy
Joyce Trinkley-Wolfson
John Turner
Steve Valentine
Aniela Valenzuela
Cathy VanOrder
Robert Vidulich
Cathy Voorhees
David Voorhees
Elke Vredenburg
Christina Wagner
Scott Wakeman
Charles Walck
Lisa Walden
Travis Waldref
Kristine Waldron
Tracy Walker
James Walker
Mike Wall
Jill Walsh
Janet Walsh
Maureen Walsh
Bill Walter
Laurie Walter
Kyleigh Walton
Mollie Walton
John Walton
Rhonda Wandersee
Mark Ward
Joan Ward
Keone Weigl
Judy Weimer
Shaye Weldon
Patricia Wellner
Rebecca Wellner
Rachel Wellner
Trish Welsh
Denise Wenzel
Debra West
Jennifer Wheeler
Hannah White
Chris White
Sue White
Karis Wiggins
Tracey Wilcox
Katey Wilhelm
Traci Williams
Renee Williams
Janelle Williams
Elaina Williams
Matthew Williams
Kelly Winchell
Peter Winkler
Steven Wladis
Daniel Wnorowski
Mike Wolfson
Susan Wood
Taylor Wood
Liam Woods
Reghan Worden
Tara Wright
Ann Yankay
Sungwon Yoo
Anna Young
Rosalie Young
Larry Young
Lexy Zimmermann
Mike Zipprich
Emily Zipprich
Mark Zipprich