CNY Triathlon Club Newsletter
CNY Triathlon Club, Inc. | P.O. Box 434 | DeWitt, NY 13214
Board Meeting

Change in date!

Monday, August 25, 7:15-8:30 p.m.

at the WTF.

If you are interested in attending, please contact a board member directly or email the board at executiveboard <at>

cnytriathlon.org

We would love to have you participate!

Club Discounts
Multisport Physical Therapy

Letter from the President 

Dear CNY Triathlon Members,

Mark your calendars. The annual 

CNY Triathlon Club's picnic

 is scheduled for 

Sunday, August 24

. I hope you all can make it. The day will be filled with the 

Kids Tri Club's

 triathlon as well as the adult triathlon followed by a great picnic served by Dinosaur Bar-B-Que. The price for our members is $15 and guest cost is $18; children 16 and under are free.

The adult triathlon will start at 

8 a.m.

; the kid's triathlon race will start at 

10 a.m.

, followed by the picnic from 

11 a.m.-2 p.m.

 This is a great opportunity to relax and hang out with your friends. Click on the link below to find out more and to register for the picnic.

Let's also remember our club's triathlon, 

Cazenovia

, is 

Sunday, August 10

. Encourage everyone to register for the race or to volunteer. This event is a great race and I would suggest everyone try it out. I always tell people if I can do this race (twice) anyone can do this race. This is a great opportunity for you to participate in a great race and support your club. Sign up!!

And finally as a reminder the last 

Wednesday

 Night Training

 is August 6. I would like to take this opportunity to thank all of our site directors, 

Bridget Lichtinger, Stacey Keefe, Mindy Lu 

Gaffney, Tom Stern, Eric Prager and Mike Gasparek. Your dedication to the club and the sport of triathlon is inspiring. On behalf of the club I want to let you know that you are appreciated! I would also like to thank all of our members who donated their time to the club and volunteered on a Wednesday evening. We could not do this without you.

Maura Donovan

President

CNY Triathlon Club

August Board Meeting

The August board meeting will take place on 

Monday, August 25

, from 

7:15 to 8:30 p.m.

 at the Winter Training Facility at Shoppingtown Mall.

Kids Tri is 

August 24



At the end of the season we will have an official 

KIDS TRIATHLON RACE

 in conjunction with the end of the year 

CNY Tri Picnic

 on 

August 24

. The race is run just like an adult tri–it has swim waves, t-shirts, race numbers, body marking, swim caps and a medal after crossing the finish line.

Children and parent(s) MUST be current members in order for the child or children to participate in the Kids Tri Club program. You can register under the family membership–see membership page to register.  **When registering for family please make sure to check the box on the Active.com registration form that YOU (as the person registering) are a member of the team…then add team members.
IM Lake Placid Race Report

By Lauren McIndoo Knight
This was my fourth time at Ironman Lake Placid, and each time has been a unique adventure! After months of training and preparation, I planned for everything to come together on race day, July 27. This year, I felt better trained than ever, and was ready to have a personal best time. I showed up in Lake Placid a few days ahead of time, to get settled, do some light swimming, bikin
g and running, and gather with my family and friends as I got ready to give it my all.
When race day arrived, my entire family popped out of bed at 4 a.m. (not an easy task!), enthusiastically got dressed and headed out the door. When I arrived for body marking, I hugged my daughter goodbye and she wished me good luck as she headed to her volunteer position as a lifeguard. Pump tires, check! Fill water bottles, check! Last potty stop, check! After all, I'd done this before, so it felt like a smooth routine. A long line of weepy hugs and good luck wishes, then we headed to the beach and my family sent me on my way.
I barely felt nervous before entering the water. I was well prepared to head for the cable and have a strong swim, and that's exactly what I did. Got out of the first lap right about when I planned to, and headed out for the second, feeling great. So far, so good….
Well, it was shortly after this that Mother Nature decided to throw a few curve balls.
On the way out for the second loop, the thunder started to rumble. By the time I had rounded the second buoy and was heading for the beach, the lightning was getting more noticeable. I was pushing as hard as I could, but soon met a wall of kayakers, ordering me to head left to the shore immediately. Yes, I did try to sneak around them, but they were having none of that. To the shore I went, extremely frustrated. Was I disqualified for not finishing? I was so close, at 2.22 miles….
At the shore, it was very chaotic. We were being pulled from the water as quickly as possible, with each athlete turning to grab the next couple of people behind them. I don't remember much about running barefoot down Mirror Lake Drive in the thunder and lightning–other than watching the lake and seeing the people still coming in, and the lifeguards helping everyone–wondering if my daughter was safe. Ironman requires one kind of toughness that I know I can tackle, but throw the "mommy worry" into the equation and I wasn't sure I had enough in me. I had to trust that the same volunteers and athletes keeping me safe were taking care of her, too.
Lucky for me, my own mommy was volunteering in the transition tent! After a quick pep talk, and another by my buddy Tanya as she handed me my bike, I was off to ride 112 miles–wondering how long this storm would last. Having what amounted to my own pit crew certainly helped!
The first 20 miles or so on the bike were some of the scariest I've ever experienced. I was not prepared for the Keene descent (which I usually LOVE!) with wet brakes, and rain that felt like bullets. Freezing, barely able to open my eyes, feeling like I was dodging lightning bolts and holding on for dear life, I wondered if this ride was courageous or stupid? I eventually made it safe and sound, and the rain even stopped! The sun came out, and everyone on the course started to smile….I was safe and, fortunately, I did not see anyone take a spill on the treacherous roads. At the next rest stop I learned that my daughter was safe, and then I was relieved and ready to get down to business!
The rest of the bike ride was largely uneventful, and I felt better and better as the miles wore on. One last storm on the way back to town on the second loop, just so Mother Nature could remind us she was in charge, and we were done. Oh yeah, except for the issue of the marathon….
With so many great spectators and volunteers everywhere you turn, the marathon miles seem to click away at a steady pace. As that finish line gets closer, the euphoria (delirium?) sets in, you can hear Mike Reilly and the crowd and it's a wonderful, exciting feeling. I know my family and friends are all waiting right at the finish line, in what seems like the biggest cheering section of all. I was about to not only have a personal best, but meet my own "stretch goal" (in real time, not just in this silly "adjusted time" that Ironman has to give us), and I couldn't be more excited after everything that had happened. As I passed through the arch and the catcher grabbed onto me, he asked me if I was OK. I told him that I felt like I had won.
This year's  Ironman sure felt a lot more insane than it is even designed to be, but everything came together for me in a spectacular way. I owe a huge thank you and hugs to my amazing family and friends for all of their support along the way and, especially, on race day! And, a huge thank you to all of the volunteers that I don't know by name but help to make this event safe, smooth and fun! Time to rest for a few days and recover, but then I will be thinking about 2015, and what great things and new lessons that will bring! I love hearing Mike Reilly call my name!
Member Profile
Ruth Ripley
Tell us about yourself. I am 67 years old and have resided in Pennellville my whole life except while I was in Massachusetts obtaining my nursing degree. For 43 years I worked nights (7 p.m.-7 a.m.) in the Emergency Departm
ent at Crouse Hospital as the Permanent Charge Nurse. Last June I retired but continue to work per diem in the department. I have been married for 46 years to my husband Larry and have two children, Matthew and Amy, and four grandchildren.
How long have you been involved in triathlon and what made you take it up? This is my fifth year of competing. One of my good friends at work, Diane Goode, was doing triathlons and having so much fun that she talked me into entering the triathlon world even though I could not swim. One quiet night at work I gave her my credit card to order what I would need to do triathlons and the UPS man was making daily deliveries. There was just no turning back at that point.
Who is your hero? I have many heroes but I will tell you my top two. First, my husband Larry, who has given me his unconditional support first in all the running that I have done and now in the triathlons. He is continually checking my equipment and traveling with me to the triathlons. Of course, he likes some of the benefits such as the wonderful buffet at the Keuka Lake Tri and encourages me to do this race each year. My second hero is Jill Walsh, who never ceases to amaze me in all she does despite her multiple sclerosis. One of her recent adventures was Escape from Alcatraz and she is now training with the American Paralympic bike team for the world finals. Go Jill!!
What is your athletic background? My athletic career did not start until I was 40 years old. I started running and have never stopped. This is truly my favorite sport. After five years of running I tried my first marathon in 
Washington, D.C. I trained very hard and finally qualified for the 100th running of the Boston Marathon in 1996. I read about running a marathon in all 50 states and thought I would give it a try. I was in the middle of my 50 states when cancer struck, but I remained determined to complete my dream despite the advanced stage of the cancer and the surgery and chemotherapy. It forced me to take five months off but I quickly returned to my marathon dream. I ran a marathon in all 50 states and the nation's capital, the second woman from New York State to accomplish this. I could not believe that I was still alive, so I ran another 50 marathons for a total of 100, and then said "100 is enough."
What are your triathlon strengths and weaknesses? Of course, running is my greatest strength with all of the marathons I have run over the years. My severe weakness is swimming. I have come a long way, however. I couldn't even swim half the length of the pool when I started. Last year I signed up for Escape from the Judge in Skaneateles, which is a mile swim, and placed first in my age group. But I'm still working very hard on the swimming with continuous lessons. My biking has improved since the purchase of my new bike and riding longer miles.
What was your first triathlon and what do you remember most? My first completed triathlon was the Iron Girl in 2010. Everyone was so very nice and so very supportive. This is such a wonderful triathlon to have as your very first. Even though I had only just started triathlon, I finished third in my age group but only because of running.
What was your worst race and why? My first triathlon attempt was at Green Lakes in 2010 and was my very worst. The swimming did not go well, as hard as I tried, and I went to the kayak and asked to be taken to shore because I could not stop hyperventilating. I knew all of the medics in the tent and did not want them to cut off my brand new wetsuit and then have them take me to the Crouse Emergency Department where everyone would have laughed. This is when I decided I really needed expert help with the swimming.
What is your favorite race and why? My favorite race was the second Iron Girl triathlon in 2011. My swimming had improved along with my biking. There were 25 in my age group for this event. I had no real aspirations for the race and just wanted to do the very best that I could. To my surprise, I placed first in my age group and was just elated. This only happened because I passed my competition, who up until that point had been the leader in the age group, in the last half mile of the run.
What races are on your race calendar for 2014? I really enjoy the sprint distance and will continue to race it. So this year I signed up for seven sprint triathlons. I have completed the Green Lakes Triathlon, Tri Oswego, Henderson Harbor, Delta and Cayuga, with Old Forge and Skinnyman left on the calendar.
What are this year's goals? My goal is always to the do the very best I can in all the triathlons and just have fun.
In five years I hope to. . . Still be able to enjoy this sport and encourage others to stay active and treasure each day of life as much as I do.
Something most people don't know about you. I was raised on a dairy farm. My father and brother would go back out into the fields in the evening and leave me to milk the cows. I had my own calves that I raised and would show at the local fair and also the State Fair.
What triathlon has taught me. I have learned that you cannot become a triathlete overnight. It takes a lot of hard work and you have to be very patient to build the skills needed to complete a race. I also have learned to not only accept the support others give you, but to always give encouragement and support back. Some of the nicest people you will ever meet are runners and triathletes. I have made many wonderful, long-lasting friendships during my athletic career. But above all, just have fun.
Club Discount

HITS Endurance is offering club members a 50% discount on registration to the 
Hunter Mountain Triathlon
. When you register, enter the following code to get your discount:
CNYSAVES. The code is good through 

Aug. 9

.   
Be there when HITS Triathlon Series returns Sept. 13-14 for theHunter Tri, an epic race with new "athlete-friendly" bike and run courses! Athletes will enjoy a swim in the pristine waters of South Lake and then bike and run through the majestic Catskills.  The roads are perfectly suited for speedy aerodynamic descents with turns while, on the other hand, rolling enough to sit up and enjoy the gentle beauty of the Catskill Park.For more information, visit: http://hitstriathlonseries.com/hunter-mounta-ny/
About the CNY Tri Club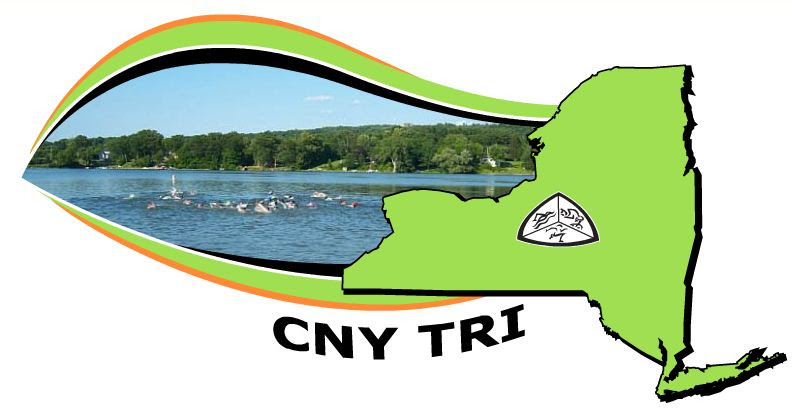 The CNY Triathlon Club is a volunteer organization operated and led by members of the club and supported by its members and sponsors.
CNY Triathlon Club was formed in January 2000 to bring together people in the Central New York area to strengthen and advance the sport of triathlon, promote the educational pursuit of the triathlon and general physical fitness, represent the sport of triathlon within the community, and to publish and disseminate information related to the sport of triathlon.
A Note from the Editor…
If any club member would like to contribute to our newsletter or help in editing and arranging it each month, contact me at newsletter <at> cnytriathlon.org
Molly English-Bowers
Publisher & Editor
CNY Triathlon Club, Inc.
P.O. Box 434
DeWitt, New York 13214
 

T2 Multisport

Manlius, NY 

We will provide a free consultation (30 min.) for CNY Tri members.
CNY Triathlon Club

 | 

Box 434

 | 

Dewitt

 | 

NY

 | 

13214