CNY

Triathlon Club Newsletter
CNY

Triathlon Club, Inc. | P.O. Box 434 | DeWitt, NY 13214
In This Issue
Letter from the President
WTF Opens
Member Profile

Quick Links

Register for 2015 Membership

Board Meeting

Monday, November 9, 6 p.m.

WTF, Shoppingtown Mall.

If you are interested in attending, please contact a board member directly or email the board at executiveboard <at>

cnytriathlon.org

We would love to have you participate!

Club Discounts
Multisport Physical Therapy

Letter from the President 

Dear CNY Tri Club members,

Not only are the leaves changing outside, but there are some changes going on with the CNY Tri Club. Maura Donovan has stepped down from being president to pursue her dream of getting her doctorate in Higher Education Leadership. Going back to school and having a heavy travel schedule for work, Maura had to regretfully put in her resignation as president of the club. Thank you, Maura, for all your hard work and we wish you much success as you embark on your exciting journey.

I've been asked to step in as Interim President since I have the experience and because I love this club and its members.

The opening of the Winter Training Facility was Monday, October 27 (class information below). If you haven't taken advantage of the WTF, you should!! Your membership entitles you to participate in the classes for FREE! If you are nervous about checking it out because you aren't sure how to use a bike trainer, don't worry!! As you know from WednesdayNight Training our members are a friendly bunch, as well as the awesome instructors, and they will show you the ropes. Go. Check it out. Have some fun!

Since it is November I want to wish everyone a wonderful and happy Thanksgiving!

Bridget "back in the saddle again" Lichtinger

Interim President

Download This App

Train safe with Yank – a personal safety app developed by a

Tri

Club member. Simply yank your headphones out of your phone to automatically send texts and emails to your emergency contacts.

It's free at the App Store or by clicking this link:
Winter Training Facility Schedule
The

CNY

Triathlon Club Winter Training Facility (WTF) provides a unique venue for wintertime training. The WTF is located in the Community Wing in Shoppingtown Mall. The space is equipped with 50 Kurt Kinetic trainers, sound system, two large screen video monitors, projector and CD/DVD player. Bring your bike, water bottle, towel and your desire to have a great workout.

The CNY Triathlon Club Winter Training Facility is available for use free of charge to current* members of theCNY Triathlon Club.

 *Registration for 2015 club membership is open! Membership is good for the calendar year (January 1 to December 31). If you are a current member, your membership will expire on December 31 regardless of when, during 2014, you registered. If you register/renew now for a 2014 membership, you are a member until December 31, 2015.     

 

Important Details
You can park in the parking garage by Sears and enter the mall at "entrance #6." Walk your bike down the side hallway around (don't go up the escalators) to the WTF, which is located in the "Community Wing" of Shoppingtown Mall.
When the parking lot is wet or snow covered, carry your bike up to the mall entrance and roll your bike the rest of the way to the WTF. We want to keep the trainers corrosion free.
If you have never used a bike trainer, no worries! It is easy and the leader of the session will show you how to set your bike up.
NEW POLICY THIS YEAR: If you do not have a trainer at home and plan to use the WTF frequently, you can leave your bike at the WTF for a small fee of $20. Space is given on a first come, first served basis with a max capacity of 40 bikes. At the end of the season you can pick up your bike to get outdoors! Note: The

CNY

Tri

Club is not responsible for items lost or stolen that are being kept at the WTF. It is also the responsibility of the member to pick up their bike during open WTF hours.
Bring your water bottle pre-filled from home because water isn't available at the WTF. If coming to yoga, bring a mat, but there are mats available at the WTF.
The WTF does have a few small changing areas.
Be sure to sign in at the front table for each session.
Arrive 15 minutes early to set up your bike.
Check the Club Calendar on our website for cancellations.
2014-2015 WTF Classes
Subject to change. Check website and club calendar for updates.
Monday 6 p.m.
Cycle with Sam Sampere. Get there early because Sam's class fills up quickly! Sam will provide you with a great workout, but also a few laughs!
Tuesday 6 p.m. Yoga with Lisa Baker. Lisa will teach a class that will keep you strong and centered throughout the winter.
Wednesday 6:15 p.m. 
Cycle with Rich O'Neil. Rich will start with base building in November, December and January.  Starting in February, Rich will pick up efforts to get you ready for outside riding.
Thursday 6 p.m.
TBA
Saturday  8 a.m. – Core workout followed by 9 a.m. Cycle
Bridget Lichtinger will start your Saturday morning off with a 30-minute core workout to get everyone strong and ready to ride. At 9 a.m., we will start riding! Bridget will give you a great weekend workout to get you ready for race season! Extended rides will begin later in the winter season.
Check back as classes may be added throughout the season.
Member Profile
Steve Tibbits 

Tell us about yourself. Born and raised in Utica. Moved to Guilderland, N.Y. in 1988 and returned to New Hartford in 2001. Currently 55 years old and happily married for 34 years to my wife Lorrie.
How long have you been involved in triathlon and what made you take it up? Became involved in triathlon in 2012. I joined ATC Endurance swim sessions in New Hartford, I was already a cyclist and thought tris would be fun.
Who is your hero? My father.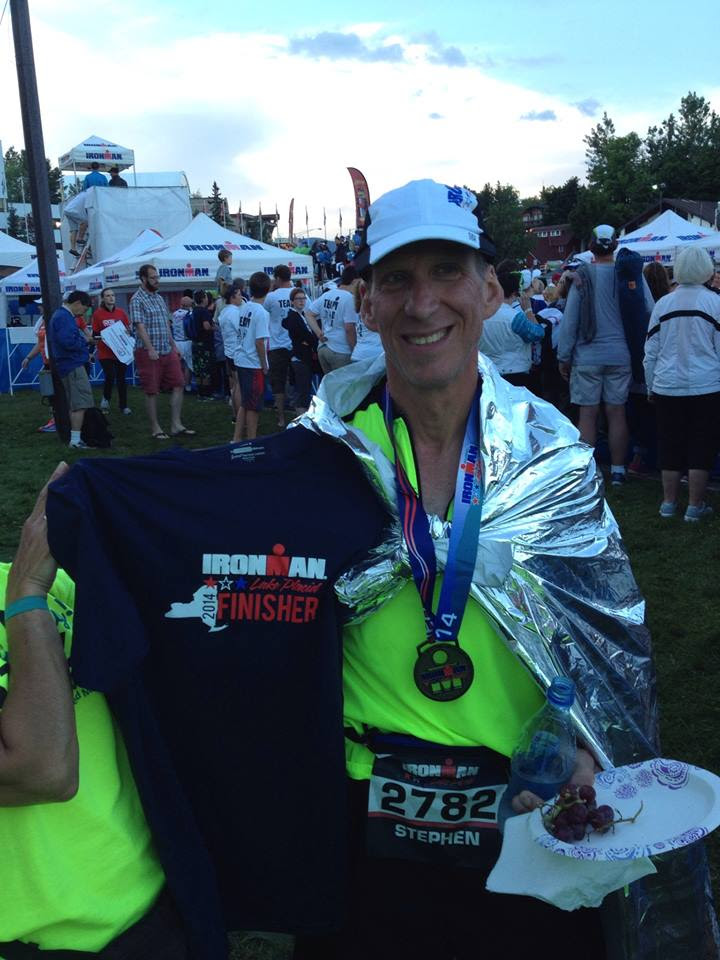 What is your athletic background? High school football and track. A few years bike racing and local running races.
What are your triathlon strengths and weaknesses?My strongest element is the bike. I can swim distances, but at a slow pace. So that is my weakness. I am working on that, though!!
What was your first triathlon and what do you remember most? Delta Lake Triathon in 2012 with ATC Endurance. I most remember freaking out in the water–it was my first experience with so many people swimming near me so I sat up until they were all away from me! I am over that now.
What is your favorite race and why? 2014 Lake Placid Ironman. I trained for seven months and loved it. A fantastic venue and amazing sense of accomplishment.
What was your worst race and why? I loved them all! But the first was my worst because I was a beginner and didn't know what to expect. Like taking 3 minutes in transition to put on my socks.
What races are on y
our race calendar for 2014? I focused on Ironman 2014 and did the Old Forge Tri in August.
What are your goals for 2015? I signed up for Ironman Lake Placid, and will do the ATC Endurance tris in Cooperstown and Old Forge, and hopefully Ironman Florida in November. I hope to take 45 minutes off my IMLP time. I was 18th in my age group and want to be in the top 10. I placed third in my age group at Old Forge and would like to take first this year.
In five years you hope to... Qualify for Ironman Kona.
Something most people don't know about you. I am an open book, but if I had to choose something..I wish I had finished college.
What triathlon has taught you: To believe in myself, and live every day.
About the

CNY

Tri

Club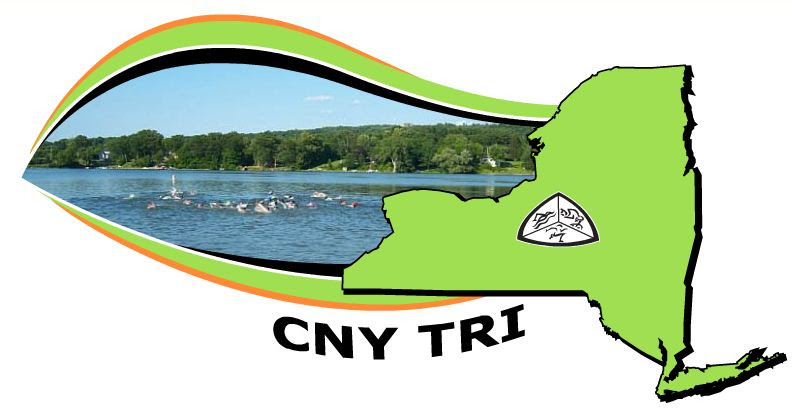 The
CNY
Triathlon Club is a volunteer organization operated and led by members of the club and supported by its members and sponsors.
CNY
Triathlon Club was formed in January 2000 to bring together people in the Central New York area to strengthen and advance the sport of triathlon, promote the educational pursuit of the triathlon and general physical fitness, represent the sport of triathlon within the community, and to publish and disseminate information related to the sport of triathlon.
A Note from the Editor…
If any club member would like to contribute to our newsletter or help in editing and arranging it each month, contact me at newsletter <at> cnytriathlon.org
Molly English-Bowers
Publisher & Editor
CNY Triathlon Club, Inc.
P.O. Box 434
DeWitt, New York 13214
 

T2 Multisport

Manlius, NY 

We will provide a free consultation (30 min.) for

CNY

Tri

members.