CNY Triathlon Club Newsletter
CNY Triathlon Club, Inc. | P.O. Box 434 | DeWitt, NY 13214
In This Issue
Announcements
Kids Tri
Cazenovia Triathlon
Member Profile

Board Meeting

Our new meeting schedule is as follows:

2nd Monday of each month from

7:00 to 8:15 PM

 at the WTF.

If you are interested in attending, please contact a board member directly or email the board at executiveboard <at>

cnytriathlon.org

We would love to have you participate!

Club Discounts
Multisport Physical Therapy

T2 Multisport

Véloved Bicycle Repair Company

Letter from the President 
Dear CNY Triathlon Members,

Congratulations to all of our members who completed the

Ironman Syracuse 70.3

 June 22. That course is not easy and completing 70.3 miles is something to be very proud of. I would also like to thank all of our members who volunteered throughout the race weekend. As the local chapter, it was fun to welcome athletes from across the country and the world to Central New York. Just my opinion but I think we impressed them. And finally a special shout out to Kenny Hammond, the race director, who once again put on a fabulous event from start to finish.

For those of you who haven't heard the 

CNY Triathlon Club

 won the 

Ironman TriClub Program for Division 1 Champion Club

 for the second year in a row. This is just one step closer to winning the overall annual award, which would be awesome. If you volunteered or participated in the 70.3 this past weekend, please let me know so we can turn the list in to gain points toward this annual award. We can also earn points at Ironman Lake Placid and Irongirl. If it is your plan to volunteer or participate in any of these races let me know. You can email me at 

president@cnytriathlon.org

 and we will keep a tally of all those participating and volunteering.

And on a final note, we are less than two months away from the

Cazenovia Triathlon

. The Tri will be held on 

Sunday, August 10

and this event is hosted by your triathlon club! It is time to sign up and complete this event. Challenge yourself and support your club. Enjoy all the beauty that this course has

to offer. You will not be disappointed!!

Enjoy your training and be safe!

Maura Donovan
President

Announcements


No Drop Rides

 The CNY Triathlon Club is hosting "No Drop Rides" on the Cazenovia Triathlon course. This is an opportunity to ride the course with a bike leader and, no matter what your riding level, you will not be alone. Our bike leaders, Sam Sampere, Ben Rabin and Tanya Woldbeck Gesek, will help you with the climbs and your gears. Don't miss out on this great opportunity.

This is the remaining "No Drop Ride" (begins at 6 p.m.):

Wednesday, July 16 - Swim & Bike

Open Water Swims

 The following are the dates for our open water swims during the 2014 season. Please remember that registration for the open water swim is required and we are limited to 100 spots per date. Registration opens 

two weeks

 prior to the swim dates. And as a reminder, we also need volunteers for all of these dates.

July 5 - Green Lakes

July 12 - Jamesville Beach

August 3 - Twilight Swim at Green Lakes
Important Information

Keep in Mind
For the 
Wednesday
 night trainings, please remember there are no signups this year, but each site can only allow 
200 members
 to participate. Why? Safety reasons and neighborhoods. It isn't the OWS (open water swims), but having 200 cyclists and runners out on the roads that limits the number of members that can participate.As we approach Irongirl (on 
Aug. 3
), we remind participants at 
Oneida Shores
 that 200 is a strict cap, entirely done for your safety. With no early signups this year, it is first come, first served. Keep this in mind through the month of July.
Also, we strongly urge each member to volunteer 
one 

Wednesday
 during the summer. It's vital for athlete safety and important to build club camaraderie. The 
site directors
 are volunteers and are out there every 
Wednesday
 for three months. One 
Wednesday
 per member isn't a lot to ask.
Kids Tri is Coming

Starting 

July 21

, the 

Kids Tri Club

 is geared for children ages 7 to 13 and takes place at Jamesville Beach. Your child must know how to swim and be able to pass an open water swim test before being able to participate. Kids are divided into three different categories depending on what they are most comfortable with: Mini, Sprint and Olympic distances. Kids will learn how to set up a transition area to make for smooth transitions, fuel the body before and after racing, along with other tips. But the best part is that they will have fun while doing all of it.At the end of the season we will have an official 

KIDS TRIATHLON RACE

 in conjunction with the end of the year 

CNY Tri Picnic

 on 

August 24

 (details to follow). The race is run just like an adult tri–it has swim waves, t-shirts, race numbers, body marking, swim caps and a medal after crossing the finish line.

Children and parent(s) MUST be current members in order for the child or children to participate in the Kids Tri Club program. You can register under the family membership–see membership page to register.  **When registering for family please make sure to check the box on the Active.com registration form that YOU (as the person registering) are a member of the team…then add team members.

Children need to bring their own swim cap, goggles, bike, helmet, running gear, transition towel and a water bottle for the training sessions.

IMPORTANT: Parents are required to be volunteers for this event and MUST be present on site the entire time. Your kids see you train and race all year long. It's time to get them moving too!!!
July Board Meeting
The July Board meeting will take place on 
Monday, July 7
, from 
7:15 to 8:30 p.m.
 at the Winter Training Facility at Shoppingtown Mall.
Cazenovia Triathlon
The club is busy preparing for the 14th Annual Cazenovia Triathlon, to be raced on Sunday, August 10, 2014. We would love your involvement either as a participant or a volunteer. Race and volunteer details can be found at www.cazenoviatriathlon.org. Check back frequently for updates.
View overlooking Oneida Lake from the top of Ridge Rd. on the Caz Tri bike course.
If you have questions regarding the race, please contact Sam at cazdirector@cnytriathlon.org.
Member Profile
Jude BurkeTell us about yourself. I am 47 years old and married to Karen Burke. We have two kids, 11-year-old Casey and 8-year-old Sierra. I grew up in Auburn and went to school at CBA, Le Moyne College and the University of Michigan School of Dentistry where I received my

Doctor of Dental Surgery degree. I am in general private practice in Baldwinsville and have a special sedation permit, which allows me to treat highly fearful patients. My professional interests include computer-guided implant surgery and adult cosmetic orthodontics.
IMLP finisher.
How long have you been in triathlon, and what made you take it up? I have been involved in triathlon since 2004. I was a licensed amateur bike racer for almost 15 years before I became a triathlete. After "retiring " for a year I got tired of just mowing the lawn and decided to gi
ve triathlons a try. I have probably done about 250 bike races and about 30 triathlons. In bike racing you race almost every weekend from March until October.
Who is your hero? I really no longer have any sports heroes. I respect them, but I took down my Lance Armstrong poster a couple of years ago. I would now say my heroes are the veterans of the Iraq an Afghanistan wars.
What is your athletic background? I ran cross country at CBA, but was nothing special. I did the Great Race in A
uburn a few years as the runner. One year I lost a coin flip and had to be the biker. I passed a lot of women and children in the race and found my new sport :-). While at the University of Michigan, I joined the cycling team at age 23. I was team captain by my senior year of dental school. I was definitely the only dental student traveling around the Midwest doing bike races every weekend when I should have been studying. It's a miracle I graduated! I kept bike racing and eventually became a licensed Cat. 3 rider, which allowed me to do a lot of Pro-Am racing where I was the "Am." On occasion, I got to race against U.S. domestic teams like Saturn and Motorola. I even did some one-week stage racing like the Tour of West Virginia a
nd Super Week in Wisconsin. One day back in 1994 Frankie Andraeu rode in 60 miles from his home in Detroit, kicked everyone's ass in a 50-mile race and then rode back home. I won some local smaller races like the Oswego Tour de Loop back in '97 but I am a shadow of my former self on the bike. However, I can now swim.
What are your triathlon strengths and weaknesses? My strength in triathlon is the bike although I was more of a sprinter than a time trialist. My one piece of advice is that triathletes need to learn how to "hit the apex of the turn." Start wide, hit the apex and then finish wide all while holding your line. It will allow you to carry more speed through the corners. My weakness is the swim, although lately it has gotten better. I will never be confused with a fish though.
What was your first triathlon, and what do you remember most? My first triathlon was Green Lakes in 2004. I remember lining up right in the front row for the swim. Almost everyone in the wave proceeded to swim over the top of me. My family thought I drowned. I almost had to grab a kayak, but managed to flounder around to the finish. I was hooked.
What is your favorite race and why? My favorite race is Ironman Syracuse 70.3. I don't know if people realize how great it is to have that kind of race right in your back yard. There are not a lot of sports where everyday people can share a course with pros from around the world.
What was your worst race and why? I don't believe in "worst" races. You learn the most when you fail. Every race teaches you something. I guess IM Lake Placid was my most difficult race. When they say hydration is more important than eating they are not kidding. I got so dehydrated it hurt to pee for two days after the race. My recommendation for anyone doing IMLP is to get a coach even if you think you know what you are doing. Placid is no joke and should be respected.
What races are on your calendar for 2014? Last year I finally qualified for Age Group Nationals in Milwaukee. I honestly don't think I would have made it if not for my coach, Kristen Roe at T2 Multisport. So I will be at Delta Lake for a tune up and then to Nationals in August.
What are this year's goals? At Nationals the goal is to kick a bunch of old guys' asses and represent the 315. No, seriously, there are a lot of fast people there. If I finished in the top 50% of AG, I would be ecstatic.
In five years you hope to… still be above ground and still doing triathlons. I just got a camp on a Finger Lake so I may chill out a little more, but I will always be doing some kind of sport if I can.
Something most people don't know about you. I am probably a borderline extreme skier and can ski any double black diamond chute in the Rockies. My family and I love to surf behind our boat on a surfboard. We are inventing a new sport.
What triathlon has taught me. Triathlon has taught me that family and friends are actually the most important thing in the world. Triathlon, however, is a way of life. It brings balance to my life and teaches me something new every day.
Club Discount

HITS Endurance is offering club members a 50% discount on registration to the 
Hunter Mountain Triathlon
. When you register, enter the following code to get your discount:
CNYSAVES. The code is good through 

Aug. 9

.   
Be there when HITS Triathlon Series returns 
Sept. 13-14
 for the
Hunter Tri
, an epic race with new "athlete-friendly" bike and run courses! Athletes will enjoy a swim in the pristine waters of South Lake and then bike and run through the majestic Catskills.  The roads are perfectly suited for speedy aerodynamic descents with turns while, on the other hand, rolling enough to sit up and enjoy the gentle beauty of the Catskill Park.For more information, visit: 
http://hitstriathlonseries.com/hunter-mounta-ny/
About the CNY Tri Club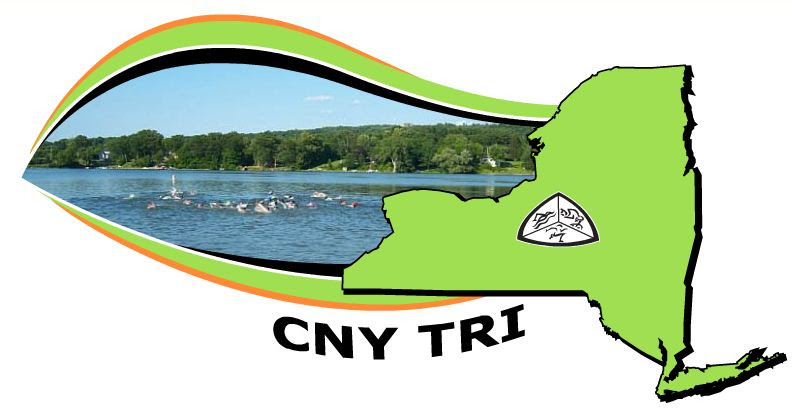 The CNY Triathlon Club is a volunteer organization operated and led by members of the club and supported by its members and sponsors.
CNY Triathlon Club was formed in January 2000 to bring together people in the Central New York area to strengthen and advance the sport of triathlon, promote the educational pursuit of the triathlon and general physical fitness, represent the sport of triathlon within the community, and to publish and disseminate information related to the sport of triathlon.
A Note from the Editor…
If any club member would like to contribute to our newsletter or help in editing and arranging it each month, contact me at newsletter <at> cnytriathlon.org
Molly English-Bowers
Publisher & Editor
CNY Triathlon Club, Inc.
P.O. Box 434
DeWitt, New York 13214
 

T2 Multisport

Manlius, NY 
CNY Triathlon Club

 | 

Box 434

 | 

Dewitt

 | 

NY

 | 

13214