CNY Triathlon Club Newsletter
CNY Triathlon Club, Inc. | P.O. Box 434 | Dewitt, NY 13214
In This Issue
Cazenovia Triathlon
Trash Talk
Member Orientation
Triathlon Training Camp
Member Profile
Article Headline

Board Meeting

Our new meeting schedule is as follows:

2nd Monday of each month from7:00 to 8:15 PM at the WTF.

If you are interested in attending, please contact a board member directly or email the board at executiveboard <at>

cnytriathlon.org

We would love to have you participate!

Club Discounts
Advance Cyclery

( Click here for coupon)

 

 

Multisport Physical Therapy(Click here for coupon)

T2 Multisport

(Click here for coupon)

Véloved Bicycle Repair Company

(Click here for coupon)

Letter from the President 
Dear CNY Triathlon Club Members,

Spring is that you?  Are you here?  Happy Spring Everyone!!

The Winter Training Facility has closed for the 2013/2014 season.  I would like to thank our volunteer coaches for their countless hours leading our spin and yoga classes.  Thank you to Sam Sampere, Lisa Baker, Rich O'Neil, Helene Roth Schmid, Eric Bansbach, Steven Plante, Dave Knaebel and Sean Severance for all of your help and assistance.  If it wasn't for them we would just have a space filled with bike trainers!  And a special thank you to Bridget Lichtinger and Sam for your help in keeping us organized as WTF managers.

This past winter the WTF had a bit of a makeover when we installed eight (8) computrainers.  These items have been on the CNY Triathlon Club's wish list for quite a while.  And with the help of one of our club members we were able to purchase them this year.  A special shout out to Ben "The Bike Lawyer" Rabin for his generous donation is helping us obtain these items.  Now that they we have gone through one season with the trainers we are hoping to be able to host more ride times with the computrainers next year.  For those of you who are like me and are holding out hope that someday we will have some endless pools…don't hold your breath!  I think I will have to purchase a few more lottery tickets!

Mark your calendars the Wednesday Night Trainings (WNT) will begin on Wednesday, May 7th at all three locations, Jamesville, Oneida Shores and Gillie Lake. For the month of May our WNT will be duathlon trainings and on June 4th 

we will begin the triathlon trainings.  All sites begin training at 6 PM, but check in begins at 5:15.

Our WNT are a unique opportunity we offer to our club membership.   The only reason they work and can continue is due to our volunteers.  Our volunteers are club members who sacrifice a night of training in order to volunteer.  Everyone in this club is equal; no one is better or less than the triathlete next to them.  We are not a club of professionals we are all amateurs and we are all successful because we have each other.

With that being said I strongly encourage everyone to take one night this summer and volunteer at one of the three sites.  If you volunteer right now you can add it to your calendar and that day can be scheduled into your training as a rest day or you can train in the morning.  Why should the same people volunteer?  Why should the same people give up their training?

Once the WNT begin we will be checking our volunteer list on a weekly basis.  If we do not have enough volunteers at any site, ALL training sites will be canceled and no one will train that day.  We are one club and we are one team!  We are only as strong as our weakest link.  We need each other in order to succeed!! PLEASE VOLUNTEER.

The CNY Triathlon club will also be offering several open water swims through the summer and new this year we will be offering "no drop" rides on the Cazenovia Triathlon course.  For those of you who don't know a "no drop" ride is, we have a leader in the front and a cyclist in the back making sure everyone stays on the course.  No one is left behind.  Also it doesn't matter your speed or ability you will not be alone on the course!  We encourage everyone to join these rides.  It really is a beautiful course!  Stay tuned for dates and more information.

Finally we have scheduled two new member orientation dates Thursday, April 24th 6:30 – 7:30 PM or Sunday, April 27th 11 -12 PM at the WTF.

We strongly encourage all new members and/or those new to triathlons to join us at one of these orientation nights.  We will share information about the club, discuss safety regarding training and general knowledge about triathlons.

I look forward to seeing everyone at the Wednesdays!  Happy Training!

Maura Donovan

President
March Board Meeting
The April Board meeting will take place on Monday, April 14 from 7:15 to 8:30 PM at the Winter Training Facility at Shoppingtown Mall.
Future meetings will take place on the 
2nd Monday of the month
 from 7:15 to 8:30 PM at the Winter Training Facility at Shoppingtown Mall.  If you are interested in attending, please contact the Board at 
executiveboard@cnytriathlon.org
.
Cazenovia Triathlon
The club is busy preparing for the 14th Annual Cazenovia Triathlon, to be raced on Sunday August 10, 2014. We would love your involvement either as a participant or a volunteer. Race and volunteer details can be found at www.cazenoviatriathlon.org. Check back frequently for updates.
View overlooking Oneida Lake from the top of Ridge Rd. on the Caz Tri bike course.
If you have questions regarding the race, please contact Sam at cazdirector@cnytriathlon.org.
Trash Talk
The Spring 2014 edition of the Trashman will be held on Saturday, April 26 at Jamesville Beach.  The Trashman is our club public service project. We will clean up the trash on the side of Apulia Road and show our appreciation for the patience the Jamesville area residents show us during our summer Wednesday night training. Of course, we will have to ride or run after an hour of trash picking. 70.3 course, anyone? Twenty mile option? We will gather in the first parking lot past the payment booth at 9:15 AM on April 26th.  The Trashman is held, rain or shine.
Questions? Contact Tom Stern at sbr19tri@yahoo.com or Trashman@cnytriathlon.org.
Member Orientation
We will be holding orientation for members on Wednesday, April 24, 6:30-7:30 p.m. and Sunday, April 27, from 11:00 am-12:00 pm at the WTF. Please plan on attending especially if you are new to the club. We are looking forward to meeting you!
Triathlon Training Camp
Member Profile
Name:  Molly English-Bowers
Tell us about yourself.  I am a mother and step-mother to five children. You've probably all seen my husband, Charlie Bowers, taking a ton of photos at all my races. His support is vital. For 13 years I was the editor of the Syracuse New Times. Last March I was hired to be the Communications Director at Service Employees International Union Local 200United, based here in Syracuse. I enjoy reading and watching movies, laughing at Stephen Colbert and Jon Stewart, and being outside as much as possible. I am currently seeking a seat on the Liverpool Library board of trustees, so if any of you live in the Liverpool School District and are registered to vote, please consider signing my petition!
How long have you been involved in triathlon and what made you take it up?  My first triathlon was in 2009. After suffering a broken foot in 2007, and struggling to regain my marathon form, I decided to give multi-sport a tri (haha). Always a planner, and one to not rush things, I got into the pool in August 2008 for my June 2009 triathlon. I knew how to swim, just not well-I needed those 10 months to prepare. Marathoners tend to be macho, so I was dismayed when I barely made it a lap. Now I enjoy swimming almost as much as running, almost.
Who is your hero? I will mention three: Kathrine Switzer. She had the nerve to run the Boston Marathon in 1967 when women weren't allowed. She broke through a huge barrier, and made it possible for women everywhere to compete in marathon. Joan Benoit Samuelson is another. She won the first Olympic marathon women were allowed to compete in (in 1984). And finally, Deena Kastor, U.S. record holder in the marathon and half-marathon. Girls who run today owe these three a boatload of respect.
What is your athletic background? I have a brother who is four years older than me, so I was a tomboy-jumping out of trees, playing baseball, trying to keep up. In high school (when it wasn't that cool for girls) I tried basketball, volleyball and softball. Interestingly, I hated track, mostly because of the coach. I started running in college to lose 10 pounds and have been running ever since.
What are your triathlon strengths and weaknesses? I am mediocre on the bike. I don't know if it's me or the bike. It's likely both. A lot of the problem is lack of time to ride for half a day on the weekend. I am saving for a new bike, which I hope to purchase at the end of the 2014 season. I am a strong runner (though not as fast as I used to be). I keep working on transitions, especially getting the wetsuit off faster in T-1. There is always something to work on in triathlon, which is a big reason I enjoy the sport so much-you never get bored.
What was your first triathlon and what do you remember most? Keuka Sprint Triathlon, June 2009. I remember being scared shitless for the swim. But mostly I remember such a feeling of accomplishment crossing that finish line. I asked my husband, "When can I do one of these again?" I was hooked. A bonus was a surprise third-place age group finish because of a penalty to a fellow competitor.
What is your favorite race and why? This is a tough one. So as not to offend any of the local race directors, I will say Steelhead 70.3, in Benton Harbor, Mich., in 2012. The swim in Lake Michigan was surprisingly calm, and I didn't really care much for the bike (bad roads) and run (ugly scenery). But, my sister was there, as were my aunt and uncle, along with my husband and one stepdaughter. Seeing a small portion of my large, scattered family at the finish line makes this race my fave.
What was your worst race and why? I honestly don't believe in a "worst race:" they're all good! I guess my worst race was the one I didn't compete in. The night before the Delta Sprint in 2009, I had placed my ID in a pair of running shoes I wound up not taking. I realized it when we were at the Canastota Thruway exit, turned around and went back to bed. The race took place in a downpour, so I guess I didn't miss much, but I learned a valuable lesson.
What races are on your race calendar for 2014? I like to mix things up geographically, and I like to stay realistic. In addition to running races scattered throughout 2014, my tri calendar looks like this: Du the Lakes Duathlon, Oswego Sprint, Delta Olympic, Cayuga Olympic and, my A race, Incredoubleman-a sprint on Saturday and a 70.3 on Sunday. That should be interesting!
What are this year's goals? I hope to have saved enough money for a new bike. I also intend to finish the Harrisburg Marathon in a respectable time. The triathlons are just gravy for me, and while I work like crazy to do well, finishing is the real goal.
In five years you hope to … : Have completed my first (and likely last) 140.6. While my family is uber-supportive of the time training takes, in five years one child will be left at home (and she will be a teenager) and then I can really focus on the distance.
Something most people don't know about you: I am a terrible public speaker, so don't ask me to talk to a group. I always tell myself, "You have finished three 70.3 triathlons and four marathons; you can do this!" But I can't.
What triathlon has taught you: Never, ever give up. No one cares if you walk some of the run portion. No one cares if you're the last person to finish. Someone will be there at the chute to welcome you back.
About the CNY Tri Club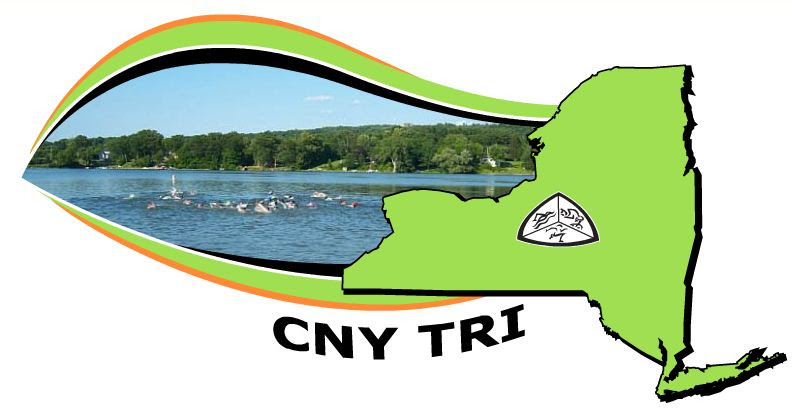 The CNY Triathlon Club is a volunteer organization operated and led by members of the club and supported by its members and sponsors.
CNY Triathlon Club was formed in January 2000 to bring together people in the Central New York area to strengthen and advance the sport of triathlon, promote the educational pursuit of the triathlon and general physical fitness, represent the sport of triathlon within the community, and to publish and disseminate information related to the sport of triathlon.
A Note from the Editor…
If any club member would like to contribute to our newsletter or help in editing and arranging it each month, contact me at newsletter <at> cnytriathlon.org
Molly English-Bowers
Publisher & Editor
CNY Triathlon Club, Inc.
P.O. Box 434
Dewitt, New York 13214
 

Multisport Physical Therapy

 Liverpool, NY

10% off 
 

T2 Multisport

Manlius, NY 

We will provide a free consultation (30 min.) for CNY Tri members.
CNY Triathlon Club | Box 434 | Dewitt | NY | 13214