CNY Triathlon Club Newsletter
CNY Triathlon Club, Inc. | P.O. Box 434 | DeWitt, NY 13214
In This Issue
Letter from the President
Merchandise Closeout Sale
Member Profile

Board Meeting

Sunday, December 7, 6 p.m.

WTF, Shoppingtown Mall.

If you are interested in attending, please contact a board member directly or email the board at executiveboard <at>

cnytriathlon.org

We would love to have you participate!

Save the Date


Mark your calendars for the 

Annual Banquet and Election

on 

Friday, February 6 at 6 p.m.

at 

TWIN TREES TOO

, 1029 Milton Ave., Solvay. Come for some good food and great company. More details coming soon.

Renew Your Membership


Your membership expires at the end of this month. Yearly memberships expire on

December 31

. If you haven't already, sign up for 2015 and take advantage of all the great opportunities the club has to offer in the winter such as the Winter Training Facility (WTF). We have tons of things happening this year and we don't want you to miss out. So renew today.

Letter from the President 

Dear CNY Tri Club Members,

Happy Holidays!! Can someone tell me where November went?!?

Thank you to everyone that took the time to fill out the CNY Tri Club survey. As volunteers ourselves, the executive board sincerely appreciates your feedback. We strive to make the club the best it can be in Central New York and hearing from club members helps us do just that. In the next couple of months we will be using information from the survey to help us plan for a great 2015 season.

It is that time of year, time to renew your CNY Tri membership. Memberships expire on

December 31

. We have open registration for 2015. If you renew before the 31st your membership will NOT expire on the 31st. Your membership will be good until the end of 2015.

RENEW TODAY

The Winter Training Facility has been busy. We love it!!!Monday to Saturday is a chance to get in some training with fellow club members. We often get asked about additional classes, but again, the club is a volunteer-run organization and that goes for the WTF too. All of our instructors donate their time (THANK YOU) to lead a class. If anyone is interested in volunteering to lead a class, particularly in the mornings, let me know.

Please note that the WTF will be closed Christmas Eve, Christmas Day, New Year's Eve and New Year's Day.

Have a wonderful and happy holiday season.

Bridget Lichtinger

Interim President

CNY Triathlon Club

Merchandise Closeout Sale

Looking for some stocking stuffers? We might have just the perfect thing. All make great gifts.

Swim Caps (thick neoprene): $5

CNY Tri Hat (great for running): $5

CAZ Tri Fleece Vests: $10 (These run big and are unisex)

CAZ Tri Sling Bag (awesome transition bag): $10If interested in any of the above items, email  

membership@cnytriathlon.org

Note: Pickup will be at the Winter Training Facility (WTF).
Winter Training Facility Schedule
The CNY Triathlon Club Winter Training Facility (WTF) provides a unique venue for wintertime training. The WTF is located in the Community Wing of Shoppingtown Mall in DeWitt. The space is equipped with 50 Kurt Kinetic trainers, sound system, two large screen video monitors, projector, and CD/DVD player and a disco ball (yes, you read that right). Bring your bike, water bottle, towel and your desire to have a great workout.
If interested in volunteering to lead a class at the WTF email Bridget Lichtinger atpresident@cnytriathlon.org
The CNY Triathlon Club Winter Training Facility is available for use free of charge to current members of the CNY Triathlon Club. Class schedule is subject to change. Check website and club calendar for updates:http://cnytriathlon.org/winter-training-facility/.
2014-2015 WTF Classes
Monday 6:15 p.m.
Cycle with Sam Sampere
Tuesday 6 p.m.
Yoga with Lisa Baker.
Wednesday 6 p.m.
Cycle with Rich O'Neil.
Dre's Bike Party! This is a totally fun, sweat-to-some-great-music, class.
Saturday  8 a.m. (CANCELED UNTIL FURTHER NOTICE) 
Crazy Core with Bridget Lichtinger 
Saturday  9 a.m.
Cycle with Instructor TBA
Member Profile
Susan Kreplin-Michaels  
Tell us about yourself.
I am 58 years old. I lived in Skaneateles for 25 years and moved in 2013 to the Town of Sennett. My hometown is Weedsport. I'm a graduate of Le Moyne College where I majored in accountin
g. I currently work part-time for Cuddy Financial Services in Auburn. I have been married to Lee Michaels for over 28 years. We have no children but three great cats, Gummer, Sawyer and CharLee.
How long have you been involved in triathlon and what made you take it up? My first fairly serious triathlon was the Tinman in Tupper Lake in 2003. It was sort of on a lark. I got talked into it by my good friend Tim Walczyk, who also competed. At that time it was possible to qualify there for an IMLP slot. Amazingly I got one but did not accept it. My first IM was the 2004 IMLP. I was planning on it being a "one and done." In those days they were actually posting results on a board in the competitors' post-race food and refreshment area. I had no idea how I had finished. My husband walked over to the results board, returned with a big smile on his face, and told me that I was 2nd in the 45-49 AG and had earned a Kona slot. That night we discussed the pros and cons of going to Kona. He was for it; I was against it. The next morning we found out that John Van Slyke and Mike Parker, both of Skaneateles, had also qualified for Kona. So I signed up. Believe it or not, the second IM I ever did was Kona 2004. I had a pretty decent race. Overall I've completed six IM races, four of them at Lake Placid. In 2006 I won the 50-54 AG and earned another Kona slot. At Kona, I was doing quite well. Around 11 miles into the run I had worked my way forward. Lee was waiting for me at the top of Palani Hill, right where the QueenK begins. He had been counting and excitedly told me I was fifth. What he did not know but I did was that I was injured. I faded to seventh place overall, thus missing a dream visit to the podium. After 2006, I began racing in 70.3 events, in the hopes that I would not be injured as much. I had some pretty good suc
cess, especially at Timberman and Muskoka, where I have won my AG three times. In 2010, with injuries continuing, I began to race the Olympic distance. Even though I had not competed in the USAT Nationals, I was selected to compete in the Worlds in Budapest in 2010. While there, I met and quickly became fast friends with the great Ellen Hart from Denver. More about Ellen later. Overall, I have competed at USAT Nationals four times and have competed as a member of Team USA in the Worlds four times: Budapest, Auckland, London and Edmonton.
Who is your hero? First is my husband Lee. He has been guru, cheerleader and staunch supporter. He is always willing to take a road trip or get on an international flight to watch me race. My second hero is Ellen Hart. She has a well-publicized medical disorder that she deals with all the time. She is an amazingly versatile triathlete, regularly winning whatever age group she is in, from sprint to full IM races on the U.S. and World stage. Despite all her success, she is very modest.
What is your athletic background? At Weedsport High School, I competed on the boys' track and x-country teams until I was a senior and the school added girls' teams. I ran the 220. I also played basketball, volleyball and field hockey. In college I played basketball, volleyball, field hockey, and  ran x-country.
What are your triathlon strengths and weaknesses? I would say that my strength is biking and my weakness is swimming. I have a coach, Eric Prager. Under his guidance, my swimming and running have improved. And, I have managed to stay relatively injury free.
What was your first triathlon and what do you remember most? My first serious triathlon was IMLP in 2004. My husband advised me to "smile any time someone smiles at you or calls you by name, and don't complain." A decade later, I still try to follow his advice.
What is your favorite race and why? I have two favorites. The first is IMLP 2006, when I won my AG and set an AG course record that lasted two years. The second was the USAT National Championships in Milwaukee in 2013, when I made the podium with Ellen Hart.
What was your worst race and why? Without a doubt, it was the USAT National Championships in Milwaukee in 2014. Everything was going great until a nutrition error caused me to fail miserably in the last 1.2 miles of the run.
What races are on your race calendar for 2015? USAT Nationals 2015, again in Milwaukee, Rev3
Olympic Williamsburg, Va., Gillie Girl, and other local races.
What are this year's goals? To qualify for Team USA at the 2016 Olympic Worlds.
In five years you hope to … The first comes to me quickly: To race competitively in the 60-64 AG. The second requires a story. Last summer I finished third overall in Gillie Girl, sharing the podium with Megan Leubner and Kara Hoselton. It was very exciting to discover that their combined age was 1 year less than my age. I would love to have something like that happen to me again in five years. I have formed many wonderful friendships within the multisport community. I hope to hold on to all of these friends and make new friendships.
Something most people don't know about you. Until the summer of 2013, when the USAT Nationals fell on the same weekend as the Great Race in Auburn, I canoed competitively with my husband. Several times our team received an award in the "open" category.
What triathlon has taught you. While racing, keep smiling, don't fret over the little things. While
training, don't try to fight through a lingering injury, as it will usually get worse.
About the CNY Tri Club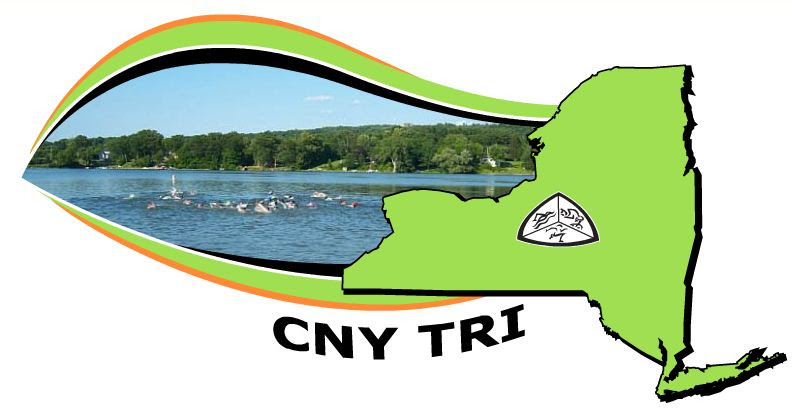 The CNY Triathlon Club is a volunteer organization operated and led by members of the club and supported by its members and sponsors.
CNY Triathlon Club was formed in January 2000 to bring together people in the Central New York area to strengthen and advance the sport of triathlon, promote the educational pursuit of the triathlon and general physical fitness, represent the sport of triathlon within the community, and to publish and disseminate information related to the sport of triathlon.
A Note from the Editor…
If any club member would like to contribute to our newsletter or help in editing and arranging it each month, contact me at newsletter <at> cnytriathlon.org
Molly English-Bowers
Publisher & Editor
CNY Triathlon Club, Inc.
P.O. Box 434
DeWitt, New York 13214